Tahitian Vanilla : a tresor of flavors.
First, let me introduce in a few words our Tahitian vanilla.
The "ordinary" vanilla of the species fragrans, explode in maturity and has to be picked before it is wall up. On the contrary, that of Tahiti does not open and can be picked in maturity, so it is richer in aromas. It is the preferred one of the chiefs. In use in pastry, take into account that a third of pod of Tahitian vanilla is enough compared to others.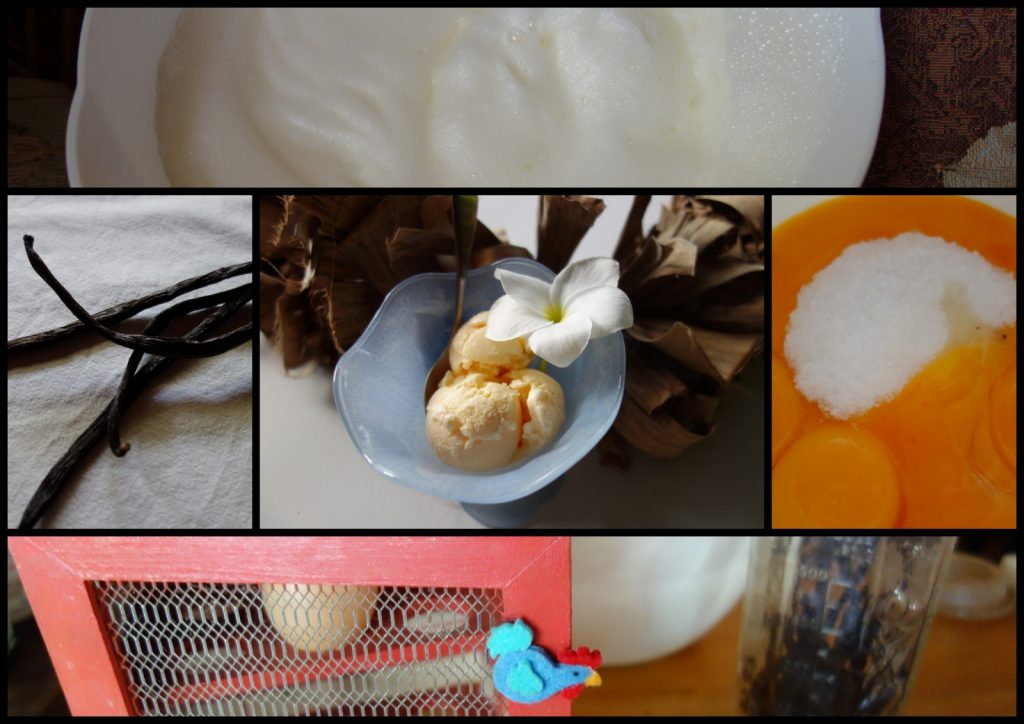 Ingredients :
– 180 g of sugar
– 1 pod of tahitian vanilla
– 100 ml of milk
– 6 eggs
– 500 ml fresh cream
Directions :
Cream sugar and eggs yolks so that they keep their yellow color.  Scrape the vanilla  from the bean and add it to the egg sugar mixture,  add the milk , the fresh cream. Then   Gently fold in  the  beaten egg whites. …..
Cool the mixture in the refrigerator for one hour then pour it into the ice-cream maker and let it turn for  approximately 30 minutes.
I use a cuisinart ice-cream maker, a gift of my children. The bowl has to be kept in the freezer so that the liquid of the double bottom remains ice-cold. Take it out only at the time of preparing the ice cream.
Adjust the time for your own ice-cream maker

Cet article est également disponible en : French